ASPHostPortal and InterServer are two of the popular Windows hosting providers that have been providing various Windows technologies, reliable servers, and easy-to-use packages. With these similarities, though, the two companies are different in many aspects such as the technical support, prices, and hosting speed.
In this comparison between the two web hosts, we will show how they compete with each other, and what their own edges are. The detailed analyses backed by monitoring statistics should be helpful if you are hanging between the choices.
First of all, here are the service ratings you may need.
| | | |
| --- | --- | --- |
| Item | ASPHostPortal.com | InterServer |
| Price | | |
| Features | | |
| Performance | | |
| Technical Support | | |
The Similarities of ASPHostPortal and InterServer
ASPHostPortal and InterServer are good when it comes to the ease of use of their hosting plans, the Windows technologies, service reliability, and several other aspects. Currently, they both offer the following things.
Advanced control panel – ASPHostPortal has developed a control panel which comes with advanced functionality and great ease of use. InterServer, instead, utilizes the popular Plesk. Both control panels make it quite easy to manage websites.
Great Windows features – The two companies provide Windows Server 2008/2012, MSSQL Server 2012/2014/2016, ASP.NET Core 1.0, and ASP.NET 4.6/4.5.2/4.0/3.5/2.0. These features are great for both the normal users and developers.
1-click script installation – Both companies offer a script installer to guarantee easy installation of the popular .NET and PHP applications.
30-day refund – Buying a package from either company, you are able to cancel it and request a refund at any time within the first 30 days.
99.9% uptime – The two web hosts offer such a guarantee, and they can get it covered. This excellence attributes to their utilization of uninterrupted power, redundant network, and the personnel invested in server optimization and monitoring.
ASPHostPortal.com vs InterServer – Price & Feature
Are you planning to have ASP.NET website for your small business or just for personal use? The good news is that there is now low cost ASP.NET hosting available for you and there are many packages you can choose from. Moreover, you can start by spending only a few dollars per month.
Likewise, even if you choose the cheapest ASP.NET hosting package, you still get more than what you ask for because there are additional features that you can use. When making a decision on choosing a cheap ASP.NET hosting service, you should spent time doing research and compare ASP.NET hosting plans and ASP.NEThosting providers.
To make easy your duty in choosing best ASP.NET hosting plan that suit with your budget, the following are the hosting plan of ASPHostPortal and InterServer that you can compare.
ASPHostPortal.com offers a variety of cheap and affordable Windows ASP.NET Shared Hosting Plans to fit any need. They have 4 plans named Host Intro, Host One, Host Two, and Host Three. Their price starts from $1 – $14 per month. It included with the new ASP.NET features and 99.99% uptime and 30 days money back guarantee. ASPHostPortal  provides almost all the features that may be needed by both the normal hosting users and developers. As a Microsoft partner, the company has been doing well in offering what ASP.NET users want.The Host Intro plan, which attracts people with the low $1/mo price, doesn't include any email storage or MSSQL database.
While InterServer offers Good Windows hosting solution. They have 1 plans named Windows hosting plan. Their price starts from $5 per month. It included with latest ASP.NET features with 99.99% uptime guarantee and 30 days money back guarantee.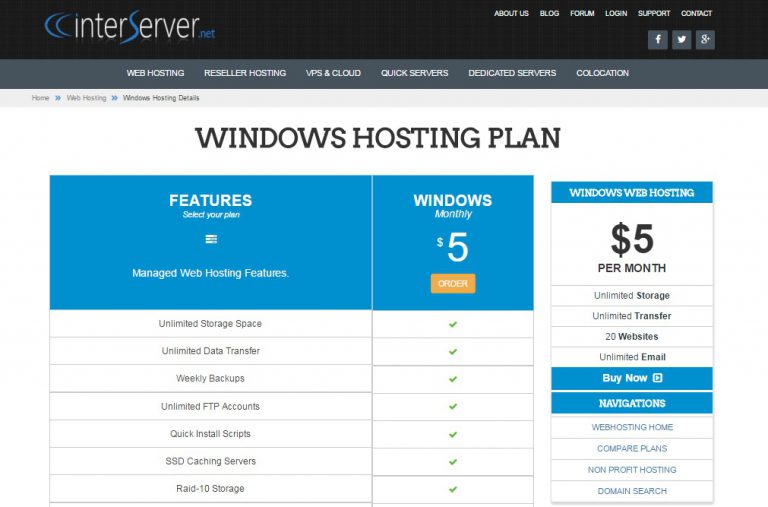 ASPHostPortal.com vs InterServer – Speed Up
ASPHostPortal and InterServer have done much to ensure a satisfying user experience. To deliver better speed, they offer multiple server locations and handpick high-performance servers and network equipment. Besides, they offer redundant network connections and 24×7 network monitoring. All these things contribute much to the hosting speed.
However, ASPHostPortal still has better performance, according to monitoring. This company is among the fastest ASP.NET hosting providers, while InterServer isn't.
Our accurate monitoring tells that the server response time of ASPHostPortal averages less than 300ms, which you can notice in the chart below, but that of InterServer is longer than 600ms.

ASPHostPortal.com vs InterServer – Technical support
Both ASPHostPortal and InterServer provide 24×7 technical support via their knowledgebase. Covering a number of Windows hosting topics, the two companies' knowledgebase is quite helpful in addressing the common issues.
However, if you want to reach the real experts in the support team, you should pay attention to the following things.
InterServer provides support via live chat email and ticketing system.  But live chat could be unavailable sometimes. Based on these facts, we would conclude that InterServer not satisfying in technical support. The difference is ASPHosPortal.com provides support via email and its ticket system. They hired an army of the very best technicians, managers and web hosting gurus. That means clear, professional support, fast. ASPHostPortal.com  team are standing by to respond to your queries around the clock, big or small, and ASPHostPortal.com  be there for you – 24×7, 365 days a year
ASPHostPortal.com vs InterServer – Conclusion
After comparison, you can notice InterServer really performs poorly in features and Support. And sometimes, its uptime is not satisfying either. So, we recommend ASPHostPortal.com for Windows hosting solution. If you are webmasters that require high speed, than ASPHostPortal is the best option.